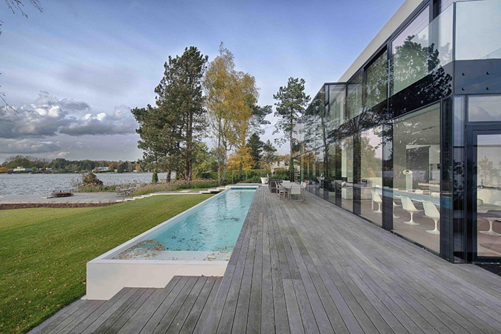 If you were to describe the best features in your ideal home, what would they be? Let's explore the most desirable elements of today's most livable and comfortable homes.
Ideally, the perfect home should have some common sense features that provide convenience and satisfaction, regardless of its size or location. If you don't have all these elements in your home, not to worry. Even a few of these features can add great value to your home. But if you get the opportunity and have the resources to remodel, keep these 7 key elements in mind.
If you're thinking about buying or constructing a new home, seek out reputable and
award-winning home builders like Zbranek & Holt Custom Homes
. They will help you build a distinctive custom home to fit you and your family's needs, desires, and architectural design preferences.
1. Single level buildings
The single level home is staging a comeback in the real estate market. Why? They're easy to maintain, safer, and quicker to get around, saving you time and costs. No need for extension ladders or hauling to get to the second floor. Whether it's repairs, painting, or daily cleaning, everything is within reach. It's also easier to regulate temperatures inside a single level house.
2. A great outdoor living space
Homes with great outdoor areas
create a healthier and more enjoyable living arrangement. Studies have shown that spending time outside your home decreases stress and levels of cortisol, a hormone that stimulates tiredness and fogginess. In addition to health benefits, outdoor living features like decks and patios add value to the home and make it more desirable for homebuyers.
3. Optimized insulation
This element of a great home may not be visible, but you're certain to feel it. Optimizing insulation reduces energy costs and will keep your indoors at a consistently comfortable temperature. More insulation makes your home environmentally-friendly, which is a well-known feature of modern homes.
4. A master bedroom and bathroom
A little privacy can go a long way when it comes to a private master bathroom. Having this feature ensures at least one small space with peace and quiet, especially when there's kids running around. You can design it as you like since it will be used solely by you and your partner.
5. Low-maintenance exterior
Most people don't enjoy spending their weekends caulking, scraping, or repainting the sidings of their home. A low-maintenance exterior is your best bet to ensuring that your weekends are stress-free and pleasurable, as it will maintain its attractive looks even in extreme weather conditions. Low-cost vinyl siding and long-lasting fiber cement are two of the best options for a low-maintenance exterior.
6. A modern kitchen
The kitchen is the centerpiece of every home and is usually the room that determines whether a home is modern or not. Here's the space where you can fully express your vision and creativity with the latest eye-catchy designs, cabinets, appliances, lightings, and counter tops.
7. Energy-savings fixtures and appliances
Today's ideal homes are smart homes, perfectly connected to its owners by the Internet of Things. The modern home is integrated with advanced green technology that offers great savings on all your
HVAC (heating, ventilation and cooling equipment
) fixtures and appliances in the home. Typically, a newly customized home built today is 30% more energy efficient that one constructed even five years ago.