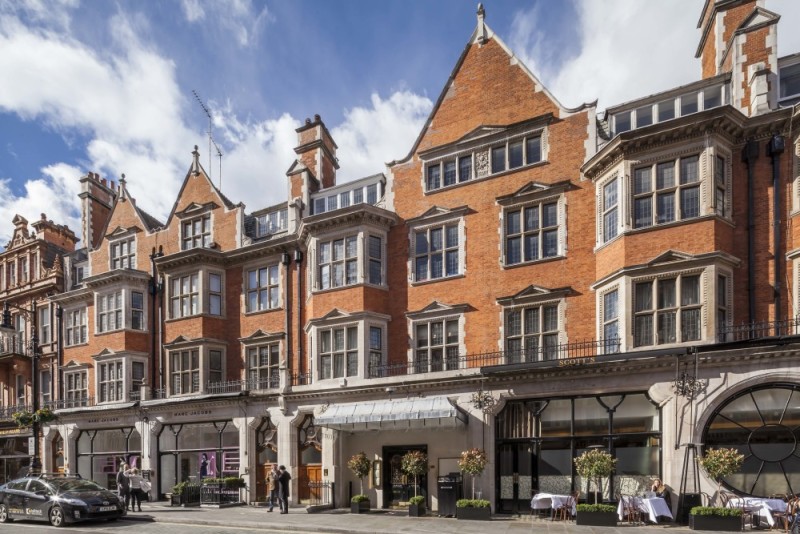 A recent study analysing property trends in the UK over the last ten years has identified a rising number of properties on the market with the incorrect price. 31 percent of properties across the country had to reduce in price before procuring a sale. The highest levels of mispricing were found in Stockton on Tees, with 49 percent of property reductions. Of the top 20, 17 were found to be in North England and Scotland, and only three were located in South England. London did not make the top 20 but still had price reductions of 30 percent of their property market, due to overpricing.
Upon investigating the matter further, Wetherell found that property sales in 2017 are lower than the number of properties withdrawn from the market so far. The 26 property sales totalling around £83 million is surpassed by the 30 disappointed sellers who removed their home from the market, all of which totalled £114 million.
Increase in multiple agency instructions and online competition to blame for mispricing
The logical reason for overpricing a property would be to compete in a saturated market with a scarce number of potential buyers. However, demand is high in the UK currently and the number of properties entering the market is significantly low due to Brexit and the economic uncertainty it has caused.
The actual reason can be traced back to agents who lack knowledge of their local market, or promise inflated prices to sellers in order to secure a client but knowing it will need to be reduced before a sale will be completed. This process is not uncommon as the number of multi-agency instructions increases and the online market becomes more saturated with the presence of online agencies and property search websites.
Typical practice two decades ago would involve just one estate agent who would be responsible for pricing, marketing and selling a property. This agent would be highly knowledgeable of their local market, buyer persona, and property trends in the area; therefore able to provide an accurate and realistic property sales price.
As sellers are increasingly using several agents and online agents, it has become common practice over the last ten years for the agent selling a property to differ from the one who priced it. Online agents are not experienced in local markets as they generally spread their services across the nation, and inexperience in the industry alone can lead to inaccurate pricing and promises of inflated prices.
This observation is evident in sales figures in Mayfair from last year. 45 percent of homes which secured a sale had multiple agency instructions and exactly 45 percent of sales were overpriced.
Peter Wetherell, CEO of Wetherell, said "Mispricing is deeply unhealthy and extremely bad for the good reputationof estate agency professionals who are experts in their local marketplaces."
It expected that property buyers in the UK are typically seeing a
£25,000 discount
 today, according to Zoopla. Buyers in London can expect an even higher discount of £57,323.
More than half of Mayfair is currently overpriced
There were 1,047 residential sales in Mayfair between 2007 and 2016, and 245 of these had their initial price reduced before they found a seller.  
Data from LonRes
 shows that property on the market in Mayfair at the correct price will sell in around three to six months, but an overpriced property can take more than double that at 14 months. In the rare instance that a property is undervalued, a sale is usually expected in just 1-2 weeks.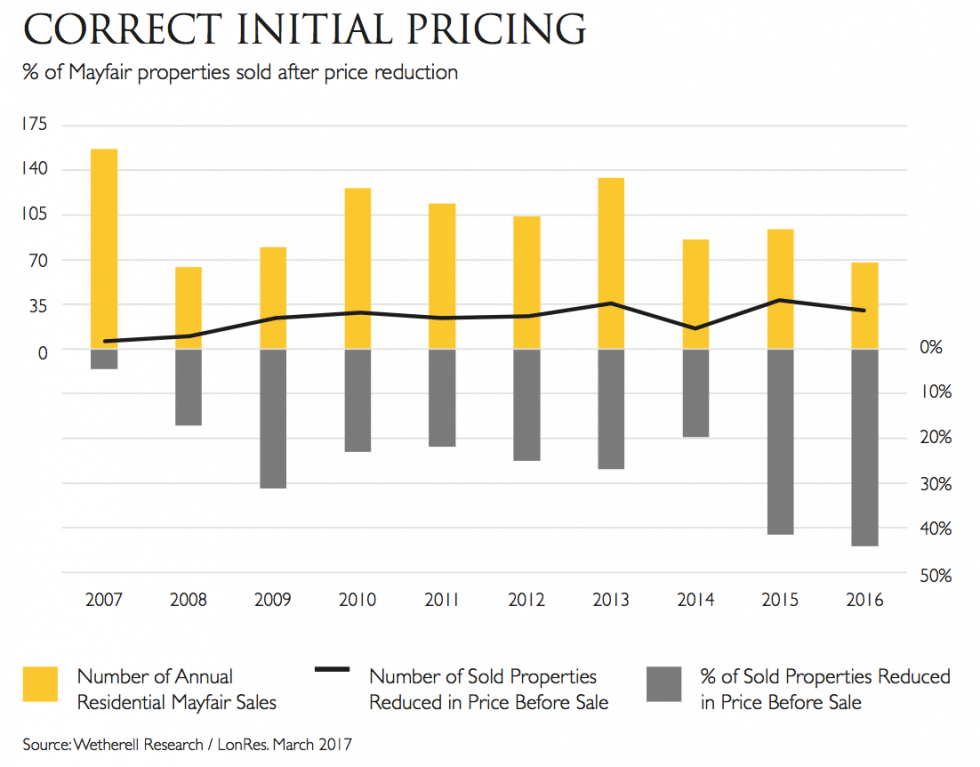 As of March 2017, there are currently 160 homes for sale in Mayfair with an average time on the market of ten months. The current market landscape suggests that only 25 percent of the market is priced correctly right now, where a substantial
70 percent is overpriced
 totalling over £1.1 billion, at £4.6 million per unit; this leaves just five percent in the rarer undervalued category. The high percentage of overpriced homes on the market has led to slow sales rates and price reductions across the neighbourhood with diminishing trust among buyers and sellers alike.
Robert Windsor, Development & Sales Director at Wetherell, says "It speaks volumes to us that 80% of the sales in Mayfair over 2015 and 2016 were handled by just two estate agents – Wetherell as the leading specialist boutique agent for Mayfair plus a leading corporate agent. Our local offices have highly experienced senior teams and a deep knowledge of the Mayfair marketplace. When Wetherell is instructed on a sole agency basis, or with another on a joint agency, the property is consistently priced correctly, marketed professionally and sold successfully."
"However, so many times over the last five years, we have taken on properties which have previously been instructed with other agents or multiple agencies who have a far less knowledge of Mayfair or have slipped into a valuation "price war" in order to please the vendor and win the instruction, and the result has been mispricing and no sale. Eventually, these instructions have come back to Wetherell to resolve. It is interesting to see reports from portals of increasing price reductions – this does not mean that values have come down; merely that the properties have eventually reached their correct marketing price and are in line with local comparables."
The next five years is predicted to see Mayfair hold onto the crown for number one residential spot in London, which was reclaimed from Knightsbridge earlier this year. New residential developments are in the pipeline and expected to be completed by 2022. Mayfair has performed at a higher rate than the rest of London over the last decade at 90 percent, compared with 70 percent.