Sometimes small bedrooms can feel congested and cluttered because of the furniture we need, the colors we use, and a general layout of the room. Luckily, there's plenty of space-saving tips that make our
small bedrooms appear larger 
than they actually are.
Furniture Arrangement is Key
The first step to a bedroom overhaul is to remove any unnecessary furniture in order to create more space. You can also bring in multi-functional furniture or furniture with many storage compartments in order to increase the amount of available free space. Another idea is to think "up" - take advantage of vertical space as much as you can. For example, instead of buying a freestanding bookshelf, build individual shelves above a desk or bed. Another space-saving tip is to build an elevated bed loft and then place your desk underneath it. Doing so will free up all the space your bed would've taken up!
Another option is to utilize storage containers that can be substituted for large pieces of furniture like a clunky wardrobe or dresser. Containers can then be placed underneath the bed or other pieces of furniture in order to save more space. After using this method, you'll have a few large pieces with many functions instead of many small pieces.
Opting for fewer but larger pieces of furniture brings a feeling of openness to a small bedroom and actually creates more storage space. For example, if you have a king of queen size bed, you'll have more room underneath for storage. It's also a good idea to place your bed adjacent to the longest sides of the wall. This puts the centerpiece of the bedroom in the most efficient spot, making the room feel less cramped. What you're really looking for is to create a sense that the room is more spacious than it really is.
Getting Your Bed Just Right
The basic principle for decorating your bed is to find brightly-colored bedding that brings the most light into your room. Doing so will give your room a more open and radiant look.
"For the eco-minded, we offer many natural fiber mattresses and bedding options that are incredibly comfortable and made from sustainable materials! We offer many light shades for bedding that will help make your room bright and airy."
-
Brentwood Home Bed-in-a-Box Specialists
Decorative Locks
Joe from
Thelondonlocksmiths.co.uk
says, "A great adornment to any small bedroom are ornate and decorative locks. Most master locksmiths will be able to fix these for you. These locks really are the finishing touch that any small bedroom needs."
Walls Walls Walls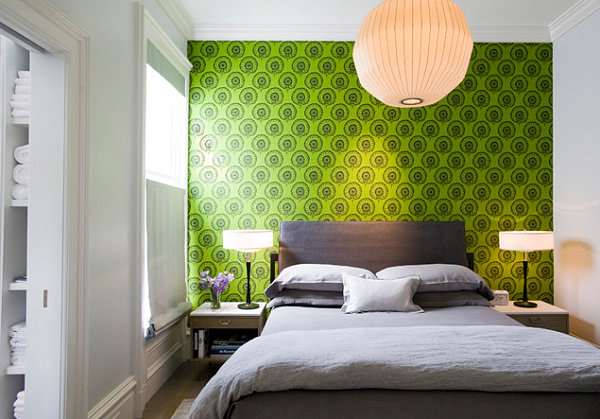 Decorating for the walls revolves around color. For a small bedroom, light blues or greens create not only a calming effect but also reflect lots of light, making the room appear larger. It's generally wise to avoid darker colors as they bring a dulling effect that makes everything feel constrained. In addition, ceilings and moldings should be painted in a lighter color to give an illusion of a high ceiling.
Super Special Lighting is Needed
Lighting is a vital component to making a small room appear larger. Install soft colored, translucent curtains made from a light material in order to let in more light. Swag curtains also allow more light in.
Mirrors Make Things Appear Bigger
Mirrors reflect light all around the room and create the illusion of depth. Place a few mirrors along the walls or on the back of your bedroom door, so long as they are able to reflect indoor and outdoor light. Bedroom mirrors not only serve a decorative purpose - a full-length body mirror can be useful for getting ready in the morning.